Disk cloning is the process of copying data from a hard disk to another one, in fact, you can do this process by copy & paste but you won't be able to copy the hidden files and folders or the in-use files, that's why you need a cloning software to do the job, also you may need the cloning process to save a backup image from your files and folders.
Basically, the cloning software job is to take all disk data, convert them into a single .img file and give it to you, so you can copy it to another hard drive, and here we have the best 7 Open Source Cloning software to do the job for you.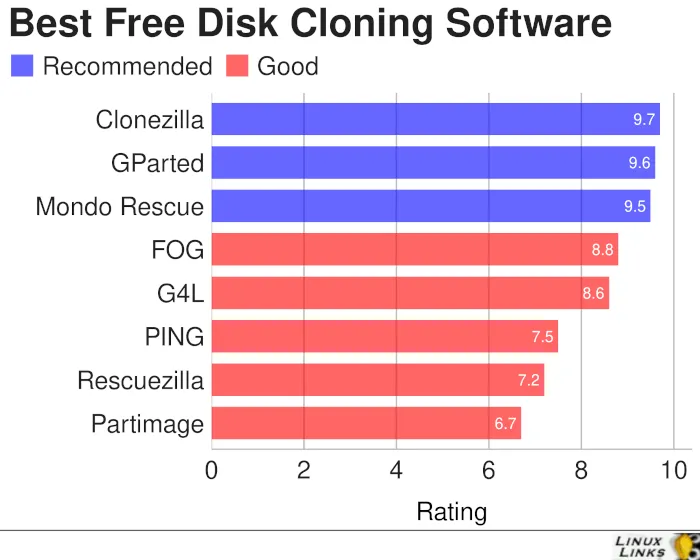 1. Clonezilla
Clonezilla is a Live CD based on Ubuntu & Debian to clone all your hard drive data or to take a backup, licensed under GPL 3, it is similar to Norton Ghost on Windows but more effective.
Features
Many filesystems Support like ext2, ext3, ext4, btrfs, xfs, and many other filesystems.
Support for BIOS and UEFI.
Support for MPR and GPT partitions.
Ability to reinstall grub 1 and 2 on any attached hard drive.
Works on weak computers ( 200 MB of RAM is needed only).
Many other features.
Minimum System Requirements for Clonezilla live:
X86 or x86-64 processor
196 MB of system memory (RAM)
Boot device, e.g. CD/DVD Drive, USB port, PXE, or hard drive
Limitations:
The destination partition must be equal or larger than the source one.
Differential/incremental backup is not implemented yet.
Online imaging/cloning is not implemented yet. The partition to be imaged or cloned has to be unmounted.
Due to the image format limitation, the image can not be explored or mounted. You can _NOT_ recovery single file from the image. However, you still have workaround to make it.
Recovery Clonezilla live with multiple CDs or DVDs is not implemented yet. Now all the files have to be in one CD or DVD if you choose to create the recovery iso file.
2. GParted
GParted is an industrial-strength package for creating, destroying, resizing, moving, checking and copying partitions, and the filesystems on them. This is useful for creating space for new operating systems, reorganizing disk usage, copying data residing on hard disks and mirroring one partition with another (disk imaging).
It uses libparted to detect and manipulate devices and partition tables while several (optional) filesystem tools provide support for filesystems not included in libparted.
There are also Live CD and Live USB versions available, based on Gentoo Catalyst and built on the latest 2.6 Linux kernel. GParted is also available on other Linux live CDs, including recent versions of Knoppix.
Features :
Create partition tables.
Support for the following filesystems: btrfs, ext2, ext3, ext4, FAT16, FAT32, HFS, HFS+, JFS, Linux-swap, NTFS, Reiserfs, Reister4, UFS, and
XFS.
Growing, shrinking, moving and copying partitions.
Enable and disable partition flags (e.g., boot, hidden).
Can be used with storage devices other than hard disks such as USB flash drives, and memory cards.
Align partitions to mebibyte (MiB) or cylinder boundaries.
Attempt data rescue from lost partitions.
Supports hardware RAID, motherboard BIOS RAID, and Linux software RAID.
Supports all sector sizes (e.g., 512, 1024, 2048, 4096 byte sectors).
3. Mondo Rescue
This tool backs up your Linux server or workstation to tape, CD-R, CD-RW, NFS or hard disk partition. In the event of catastrophic data loss, you will be able to restore all of your data [or as much as you want, from bare metal if necessary. Mondo is in use by numerous blue-chip enterprises and large organizations, dozens of smaller companies, and tens of thousands of users.
Mondo is comprehensive. Mondo supports LVM, RAID, ext2, ext3, JFS, XFS, ReiserFS, VFAT, and can support additional file systems easily. It supports adjustments in disk geometry, including migration from non-RAID to RAID. Mondo runs on all major Linux distributions and is getting better all the time. You can even use it to backup non-Linux partitions, such as NTFS.
Unlike other cloning software, Mondo Rescue doesn't convert your hard drivers into an .img file, but it will convert them into an .iso image, you can also create a custom Live CD with Mondo using "mindi" which is a special tool developed by Mondo Rescue to clone your data from the Live CD.
It supports most Linux distributions, it also supports FreeBSD, and it is licensed under GPL, You can install Mondo Rescue by using the following link.