In hosting services, one of the most important tools is the control panel. By using hosting control panels, users can do many of the things they need to do consistently more easily and quickly.
Things like checking emails, creating a database, creating a user and even managing multiple users. Nowadays, control panels have greatly increased the speed of managing and setting up servers. Using controls, we can do server management tasks quickly, cheaply and easily.
A good control panel should provide a lot of advanced features and of course be reasonably priced. In this article, we review the best control panels.
Top & Best Hosting Control panel
cPanel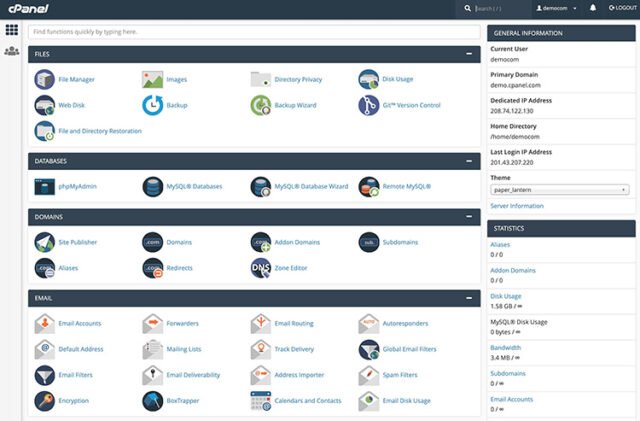 cPanel is one of the most popular control panels and it's only available for Linux operating system.
This panel is available only for Linux OS. It's one of the most popular control panels. It has both a graphical interface and server management interface through WHM (Web Host Manager). As these environments work together, it is possible to manage your website in either of them. So, it is perfectly suitable for both beginners and developers that prefer console rather than pretty design.
cPanel has lots of different features. All of them are located on one page which is quite comfortable as you will not need to click on various menus to get where you need them. In addition, all of the features have short descriptions where it's indicated what they can do. Moreover, almost in each option, you can create anything in a few clicks. Here are the main features offered:
Domain name settings, registration, and transfer;
Email creation and management, spam filters management, autoresponders, and email forwarders set up;
Visitor and error logs;
Database creation and management;
Security features, such as IP blocker, leech protection, and password-protected directories;
Server performance monitoring;
Backup creation and automation;
File manager and FTP users creation;
Lots of third-party apps and tools to extend functionality.
Installation guide: How to Install Cpanel
Official Site: https://www.cpanel.net
Plesk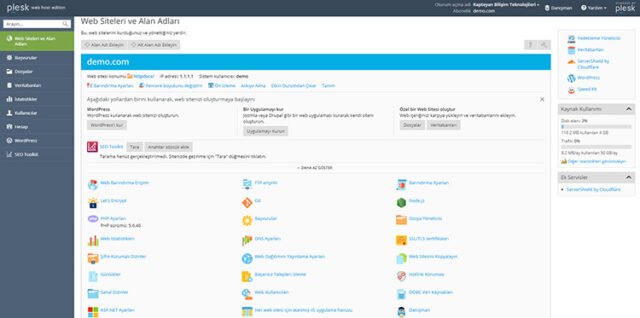 Available for Windows and Linux. It's also quite popular, especially amongst European hosting providers. Basically, there are not many control panels offered for Windows. That's why Plesk can be considered as one of the most comfortable and easy panel for this particular OS.
All of the options are divided into different categories. They are displayed in the form of a list on the left side. Multiple servers can be managed in one panel.
The interface is quite simple and intuitive, everything can be created in a few clicks. One of its distinctive features is the variety of automation tools. They will spare your time and resources, so you can focus on your website development and don't worry about server maintaining.
Another peculiarity of Plesk are the login levels. There are 4 levels. All of them have different permissions and responsibilities:
Administrator – the highest level, possible to manage and set up system items as well as manage multiple servers (if applicable);
Client/Reseller – possible to create and manage groups of domain names, permissions are given by system administrator;
Domain Owner – possible to manage only one domain name, management options are predetermined;
Mail User – the lowest level, possible to log in to webmail interface and manage passwords, spam filters etc.
cPanel and Plesk panels are the most popular and commonly used panels worldwide. However, there are still dozens of them. Some companies create their own control panels for their customers. For example, Hostinger has designed hPanel. You can find it's description below.
Official Site: https://www.plesk.com
Webmin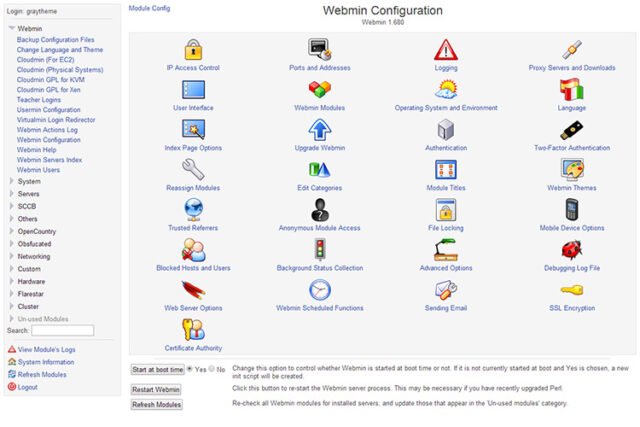 This web panel is available for all Unix systems, including but not limited to BSD systems, all Linux and Solaris systems. Moreover, it is partially available for Windows OS. This means that it is possible to install Webmin on Windows, however, not all of the functions will be displayed.
It's obvious that Webmin's design cannot be called extremely user-friendly and simple, though, it is highly customizable. For example, it has an Apache web server to configure Apache directives and features. Furthermore, Webmin developers created several panels based on Webmin cPanel to match different purposes and hosting types:
Usermin – web interface for managing emails, setting up mail filters and password etc;
Cloudmin – user interface for managing virtual servers;
Virtualmin – used to manage multiple virtual hosts (like Plesk).
Webmin may not be as comfortable as other panels described in this article but it is absolutely free and can be installed on the majority of operating systems.
Official Site: http://www.webmin.com
hPanel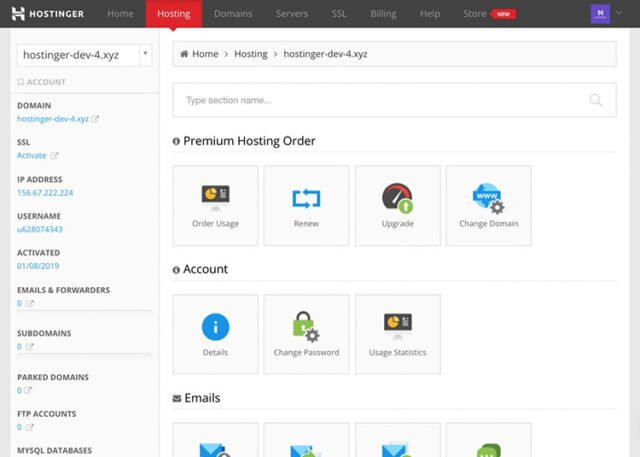 This is a control panel designed by Hostinger team for their clients. It is available for Linux distributives. Also, hPanel can be used only for shared hosting at the moment.
hPanel looks a bit like cPanel, however, a more comfortable version. For instance, although all of the options are located on the front page, when you select one of them, a side menu appears on the left. So it'll be easier to navigate between different sections.
This web panel has all of the basic functions that you need, such as domain and email management, DNS zone editor, file and database manager etc. You can also manage your account security: set up passwords for directories, block IPs and configure hotlink protection. Apart from all of these options, it's the main peculiarity is the possibility to manage all of your products in one panel. For example, it's possible to view your payment history, buy new hosting packages and upgrade them.
Official Site: https://www.hostinger.com
ISPmanager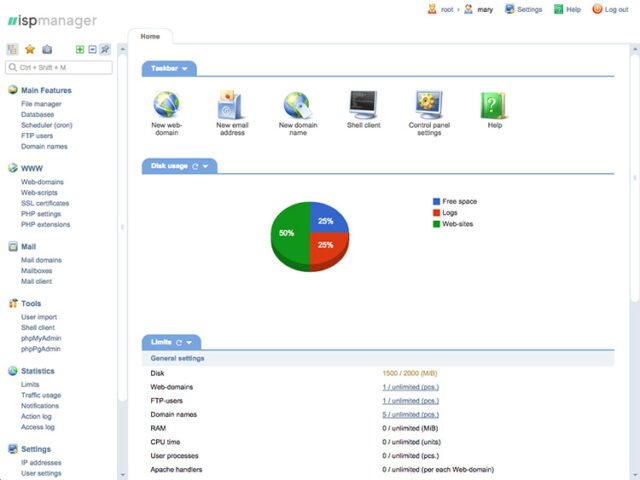 It is a Linux-based control panel widely used among Eastern European hosting companies. Has a very simple and basic design but that does not make it less comfortable.
There are two versions of this web panel: Lite and Business. The first one, Lite, apart from other features that are more or less common for each panel, can be used for web-server management, creating users with different access levels, importing data from remote servers etc. Due to this, the Lite panel is mostly used for Dedicated and VPS servers. As for Business ISPmanager version, it's better for shared or reseller hosting as it allows to manage multiple servers (clusters) and easily create and manage user accounts.
Official Site: https://www.ispsystem.com/software/ispmanager
Direct Admin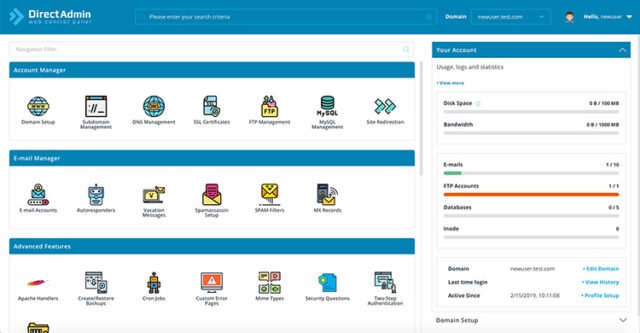 It's available for Linux and BSD systems. It is one of the easiest, fastest and most stable panels. Its interface is very user-friendly. Plus, it's one of the cheapest as well.
All of the options are categorized and located on the top. This control panel also supports multiple access levels: Administrator, User, and Reseller. In addition, it has built-in anti-spam tools. Moreover, it is possible to view the complete usage statistics of each resource. Basically, it has a lot of options and features, such as DNS management, database creation, and management, reseller account creation and management, backup creation, file management etc. But the main peculiarity of this panel is its simplicity. You don't have to be tech-savvy at all to understand and use it.
Official Site: https://www.directadmin.com
Sentora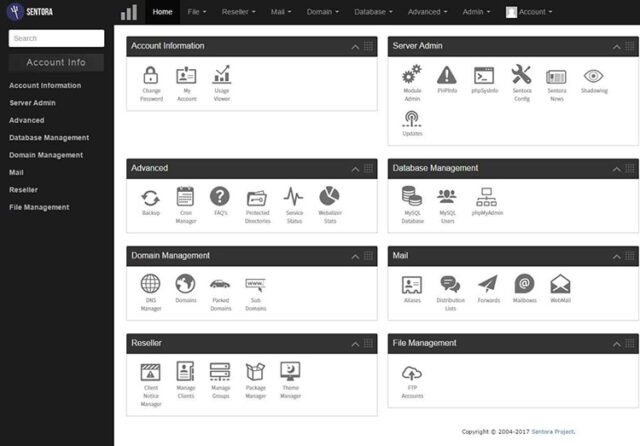 Sentora is also a free, modular, and open-source control panel with a nice looking and easy interface. It can be installed on many Linux distributions and other Unix-like operating systems. It is also possible to get technical support from its Community Forums.
Official Site: http://www.sentora.org
DADE2:

We are a business class cloud service provider in Europe. Our services are provided in the world's leading data centers in Europe and America. With very reasonable cost and excellent quality. Contactus