Validating a candidate's IT skills and knowledge with certification is a significant way to match them to particular jobs. With Cisco Certifications, you can build a career in IT that is more flexible and powerful than ever before. Choose your technology path and advance your career today, whether you're starting out at an entry-level or are advancing through an advanced level of certification.
Networking credentials from Cisco are one of the most highly considered worldwide. Among all networking certification programs, Cisco is perhaps the most highly regarded. There are various Cisco certifications ranging from entry-level to professional-level, and they cover a variety of technologies.
Cisco Certifications are highly respected all over the world, and they validate the knowledge and skills of experts. The Cisco Certifications are considered among the most valuable qualifications for internetworking professionals worldwide.
Highest Paying Certifications
Here are the highest paying Cisco certifications: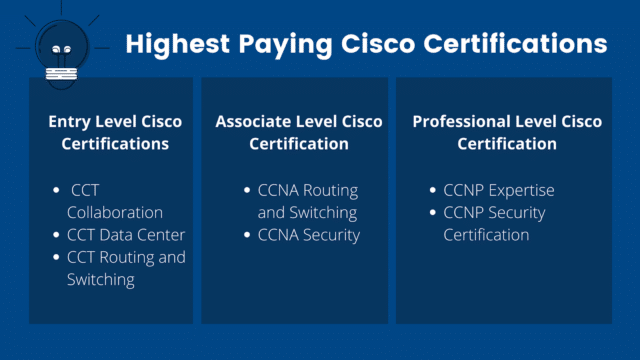 Entry Level Cisco Certifications
Cisco Certified Technician (CCT)
Cisco Certified Technicians are specialists in diagnosing, resolving, repairing, and replacing Cisco networking and system tools at the customer's site. Cisco's engineers operate closely with its Technical Assistance Center (TAC) to resolve support issues quickly and efficiently.
Cisco offers authorized training online and as a series of short sessions, which is designed to enable technicians to remain fruitful in the field.
With multiple Cisco Certified Technician (CCT) credential tracks available, Cisco support technicians have the chance to increase their knowledge.
A) CCT Collaboration
Cisco Certified Technician Collaboration (CCT Collaboration) certification is designed to improve the expertise required for onsite continuity and support of Cisco collaboration products and operating environments. Cisco collaboration expertise includes identifying Cisco collaboration endpoint models, accessories, interfaces, and cabling; understanding Cisco collaboration software; identifying commonly established software; and using the Cisco Command Line Interface (CLI) to associate and service products.
B) CCT Data Center
The Cisco Certified Technician Data Center (CCT Data Center) credential tests the expertise needed to support and maintain Cisco Unified Computing Systems (UCS). These technicians should be able to recognize Cisco Unified Computing System products, including servers, accessories, piping, and interfaces; understand Cisco UCS and NX-OS operating modes; identify major software applications, and be able to utilize the Cisco Graphical User Interface to associate and service products.
C) CCT Routing and Switching
With the Cisco Certified Technician Routing and Switching (CCT Routing and Switching) credential, you'll learn the skills needed for on-site maintenance and support of Cisco switches, routers and operating environments. This type of technician must have experience identifying Cisco routers, switches, and accessories, understanding Cisco IOS Software operating modes and identifying commonly recognized software, and being able to use Cisco Command Line Interface (CLI) to associate and service products. The Cisco Certified Routing and Switching (CCT) certification is considered to be the most effective foundation for helping other Cisco devices and systems.
Associate Level Cisco Certification
Cisco Certified Network Associate (CCNA)
With a CCNA certification, you are proving to yourself that you are capable of navigating the rapidly evolving IT landscape. Networking fundamentals, security fundamentals, IP services, automatability, and programmability are all covered in the CCNA exam. With its versatility and agility, CCNA demonstrates your expertise in managing and optimizing today's modern networks.
If you take the CCNA training course and exam, you will have a strong foundation for your future career. Getting certified with Cisco demonstrates your commitment to the rigour and standards that businesses recognize and respect to meet and exceed market demands.
A) CCNA Routing and Switching
The CCNA Routing and Switching credential is designed for IT professionals who wish to construct and validate their Cisco networking knowledge. It is the most wanted Cisco certification and emphasizes foundational IP networking skills.
B) CCNA Security
CCNA Security demonstrates the knowledge and expertise required to protect Cisco networks at the associate level. It emphasizes the utilization of security technologies that support data integrity, confidentiality, and availability, such as installing, troubleshooting, and monitoring network devices.
Professional Level Cisco Certification
A) CCNP Expertise
By earning the CCNP Enterprise credential, you prove your expertise in enterprise networking solutions. With the CCNP Enterprise certification, you must attend and pass two exams: one that contains core enterprise technologies and one enterprise concentration exam of your choice, so that you can change your certification to your technical area of focus.
Two exams are required for CCNP Enterprise certification: a core exam and an enterprise concentration exam of your choice. As you complete each exam in the CCNP Enterprise program, you'll earn a Specialist certification, so you'll be recognized for your accomplishments.
It examines a wide range of knowledge about enterprise infrastructures, such as dual-stack architecture (IPv4 and IPv6), virtualization, infrastructure, security, and network assurance. This core exam qualifies candidates for CCIE Enterprise Infrastructure as well as CCIE Enterprise Wireless certifications. Candidates who pass the core exam are eligible to schedule and take the CCIE lab during the validity of their core test.
During concentration exams, students study topics related to emerging and industry-specific technologies such as network design, SD-WAN, wireless, and automation. Preparation for concentration exams can be accomplished by completing corresponding Cisco training courses.
B) CCNP Security Certification
With a CCNP Security certification, you can demonstrate your expertise in security solutions. CCNP Security certification involves passing two exams: one covering core security technologies and one security concentration exam of your choice, so you can change your certification to match your technical expertise.
You must attend and pass two exams to earn CCNP Security: a core exam and a security concentration exam of your choice. As a result, now every CCNP Security exam earns an individual Specialist certification, so you can be recognized along the way.
During the core exam, you will be tested on your knowledge of the security infrastructure. Taking the core exam qualifies you to take the CCIE Security exam. If you pass the core exam, you are eligible to schedule and take the CCIE lab during the validity of your core exam.
Concentration exams contain emerging and industry-specific topics. Taking the corresponding Cisco training can prepare you for the concentration exams.
Cisco is a Major Player in Networking/Infrastructure
Cisco-certified IT professionals work in networking and infrastructure at a much higher rate than any other job function. Here are some of the top functional areas of Certified Cisco Professionals:
Networking/Infrastructure/Telecommunications – 44%
Cybersecurity/IT security – 16%
IT Architecture and Design – 11%
Service Desk and IT Support – 8%
Executive – 3%
Cisco-certified professionals are spread out more evenly by industry:
IT-related services – 11%
IT consulting – 10%
Healthcare – 9%
Government: Military and homeland security – 8%
Education services – 7%
Conclusion
IT professionals appreciate CISCO certifications as one of the most valuable certifications. If one is interested in a career in systems and networking, they should acquire a CISCO certification. The networking field is one of the best career options for IT professionals, providing wonderful career growth opportunities.
You can go through some practice tests to receive this certification from having that real exam experience, and therefore you can determine your level of knowledge. ExamPirate can be the best platform for you to do this which provides you with sample questions and answers that give you real hand-on-hand experiences.
So what are you waiting for? Boost your earning potential and career with a Cisco certificate. To clear the exam in one attempt, start preparing practice questions for Cisco Certification from ExamPirate.
More News
DADE2:

We are a business class cloud service provider in Europe. Our services are provided in the world's leading data centers in Europe and America. With very reasonable cost and excellent quality. Contactus