In this article, we will introduce 7 of the Best Free FTP Server tools for Windows, and Linux.
There are lots of FTP servers available, but many of them are only usable at a cost. Below is a list of the best freeware FTP server programs that run on Windows, macOS, and Linux. You can download and use them to share files as often as you like without paying a dime.
What Is FTP Server
An FTP server is using to share files using the File Transfer Protocol. An FTP server is what an FTP client connects to for file transfers. Also, FTP Server Software is an application providing FTP services to download and upload files from the servers. This server can be any computer system that has File Transfer Protocol Server software installed on it.
How much do FTP Servers cost?
Their price is based on the number of connections, security protocols supported, and compliance and disaster recovery features supported. A simple ad hoc transfer may be able to be handled by a free File Transfer Protocol server, while a more complex and business-critical transfer likely benefits from a paid solution with enterprise features and technical support.
How to choose the Best Free FTP Server Software?
FileZilla, well known for their popular cross-platform FTP client tool, also provide an a server for download that supports FTP and FTPS (FTP over TLS/SSL). FileZilla Server supports files up to 4GB, giving it the bandwidth to support the needs of most organizations. On the whole, the platform is easy to configure. To start you need to connect to a server with your login credentials and then you can view a list of files and directories.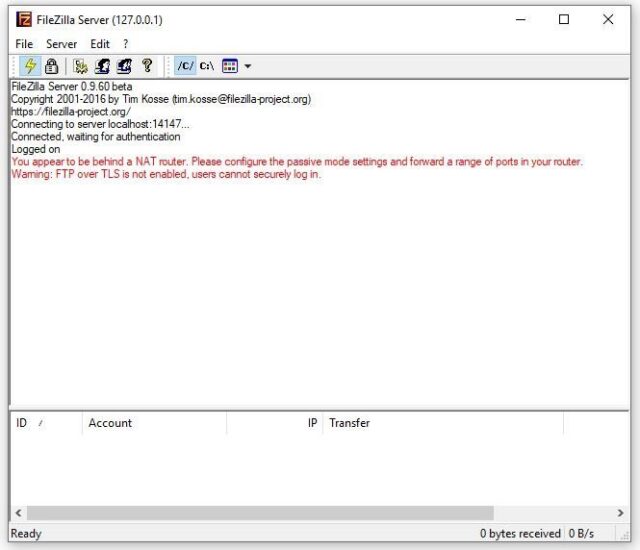 Features:
Supports FTP and FTPS (FTP over TLS/SSL)
Supports file transfers up to 4GB
Drag-and-drop support
Search for files
Available on Windows, Linux, and Mac OS
The layout is very intuitive to navigate. Under the Quickconnect bar, you can view a message log that gives you status information on file transfers throughout your environment. Under that section, the left column shows local files and directories, and the right column displays files and directories on the server you're connected to. Being able to compare the two side-by-side makes it easier to know what transfers you need to complete.
Drag-and-drop allows you to add files into FileZilla to transfer. You can view a list of files being transferred in the Queued files section at the bottom of the screen. If you want to cap the number of transfers taking place then you can configure transfer speed limits.
FileZilla Server is one of the top FTP and FTPS servers in the world because it offers a basic client to manage file transfers with excellent visibility and controls that make sure you have all the data you need where you need it. You can download FileZilla for free.
Pros:

Completely free tool
Easy to use interface
Available cross-platform for Windows, Linux, and Mac OS
Supports drag and drop transfers

Cons:

Could benefit from automatic synchronization
Lacks in-depth scheduling features found in other tools
FileZilla Server is a top pick amongst enterprises that want a cross-platform secure FTP solution. FileZilla is suitable whether you're conducting FTPS or FTP file transfers.
The tool can be installed and configured very quickly, so you can start managing your files almost immediately. FileZilla supports multiple operating systems including Windows, Linux, Mac OS, meaning that it can adapt to almost any environment.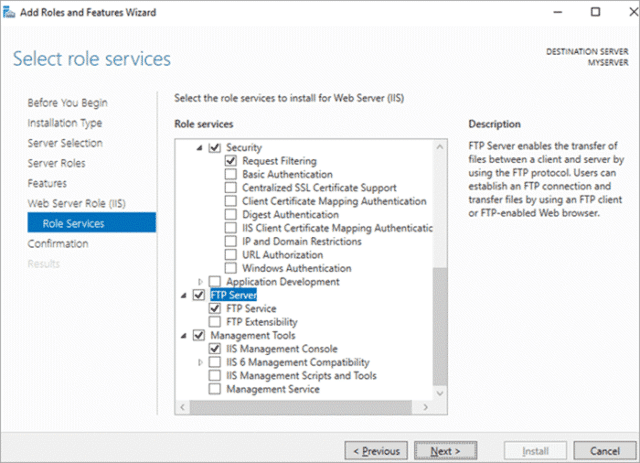 You can install a secure File Transfer Protocol server on Windows by making use of IIS (Internet Information Services). It has FTP Server Component that can be installed as a standalone or with a Web server. It can be installed on Windows Server 2016, 2012, 2008 R2, Windows 10, 8,7, and Vista. You can add roles and features through Windows Server Manager.
Features:
You can automate file transfers to FTP or SFTP Server.
You can connect your FTPS Server to a Microsoft Azure Windows Instance.
You can upload or download the files by just dragging them.
Verdict: WinSCP is an SFTP, SCP, S3, and FTP client for Windows. Through IIS, you have an option to install a secure File Transfer Protocol Server on Windows as standalone file storage or as a solution to edit your website that is hosted on an IIS web server.
CompleteFTP is a Windows SFTP server that aims to be highly customizable and integratable. It offers the features that you'd expect from an SFTP server, such as non-Windows and Windows (local or AD) users, a virtual file-system, a user-friendly admin interface and a responsive web file-manager (from version 12), but also adds some novel capabilities such as:
Custom file-system extensions (.NET or Javascript)
Custom authentication extensions (.NET or Javascript)
Scriptable process triggers and e-mail notifications
Protocol-translating proxy/gateway
Remote FTP/SFTP servers mountable as virtual directories
Web application hosting (server-side Javascript)
Free *box-style file-sharing client application (CompleteBox)
Clustering with real-time config synchronization
you can read more about features here : (CompleteFTP Features)
Pricing ranges from $0 to $999. The 30-day trial installer installs as Enterprise Edition but can be downgraded all the way to the Free Edition with a single click.
Pros:

Simple installation.
Supports encrypted file transfers.
Many customization options.
More features than most FTP servers.

Cons:

Full menu is hidden by default.
Has occasional performance issues.
Limited features in the free version.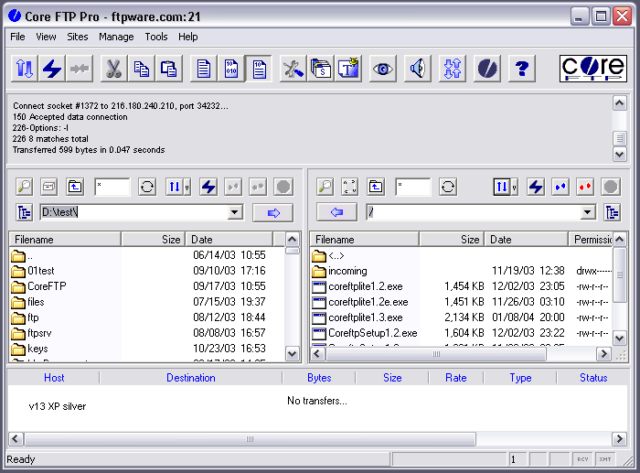 Core FTP is an FTP client software that is available for free. It supports the Windows platform. It offers a secure method for uploading or downloading files to and from FTP servers. It provides international domain support. Core FTP will give you HIPAA-compliant security. It is rich in features and offers functionalities like keep alive and advanced directory listing, etc.
Core FTP Server Top features:
Secure SFTP, SSL, TLS, & FTPS
International Domain support
Fast and secure client transfers
HIPAA compliant security
Mode Z compression
User-friendly interface(s)
Site to Site file transfers
FULL drag and drop support
Start/stop/resume of transfers
Auto retry of failed transfers
Transfer bandwidth control
Browser integration
File masking (wildcards)
Keep Alive functionality
Remote file searching
File permissions (CHMOD)
Advanced directory listings
.htaccess & .htpasswd editing
One click transfers
Keep Alive functionality
Automatic S/Key support
Favorites via menu & drop down
Desktop shortcuts & drop u/l's
Command line support
FTP/HTTP Proxy, Socks 4&5 support
Pros:

Quick setup.
Supports encrypted file transfers.
Supports Active Directory.
Simple interface.

Cons:

Free version only supports three domains.
Vsftpd is preferred by Linux server Admins all over the world, It provides out-of-box security, and set of features and configurations to configure FTP and FTP virtual users on the server.
Vsftpd is used by Red Hat, openSUSE, Debian, FreeBSD, Gnome, KDE. A user has sent Vsftpd admins a graph demonstrating Vsftpd performance as it served 2.6TB, with a concurrent user count often over 1,500 on one single machine for 24 hours.
vsftpd Top Features
Virtual IP configuration
Users: Create, manage, delete, virtual users
Per-user configuration
Bandwidth throttling
Per-source-IP configuration
Per-source-IP limits setting
Supports IPv6
SSL: support
Pros:

Fast FTP server.
Supports secure file transfer.
Lightweight.

Cons:

For Linux only.
Complicated to install and configure.
Limited functionality.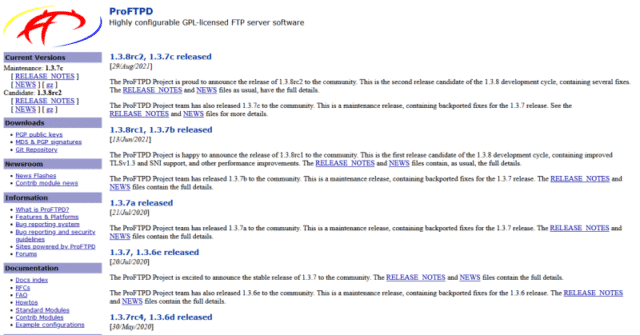 ProFTPd is an FTP server for Unix/ Linux-based systems. It's easy to install, use and highly configurable even for newbies. It provides multiple virtual FTP servers support with per-directory based configuration via ".ftpaccess" file which is very similar to Apache's ".htaccess".
ProFTPD is a good option for Linux if you're looking for an FTP server with a GUI so that it's easier to use than messing around with command-line commands.
The only catch is that after installing ProFTPD, you must also install the gadmin GUI tool and connect it to the server.
ProFTPD Top Features
Open source (GPL)
Modular design: many modules are already written for Database, LDAP servers, TLS/SSL encryption, RADIUS.
Supports multiple virtual FTP servers
Per-directory configuration with ".ftpaccess" similar to Apache's ".htaccess"
Anonymous FTP support
Configure single or multiple virtual FTP servers or anonymous FTP services
Supports hidden files and directory based on Linux-file system permissions
Logging
IPv6 support
Expired account options
Runs as a configurable non-privileged user in standalone mode
Pros:

More secure than other FTP servers.
Add-on modules are available for more features.
Ideal for web servers.

Cons:

Linux only.
Difficult for novices to install.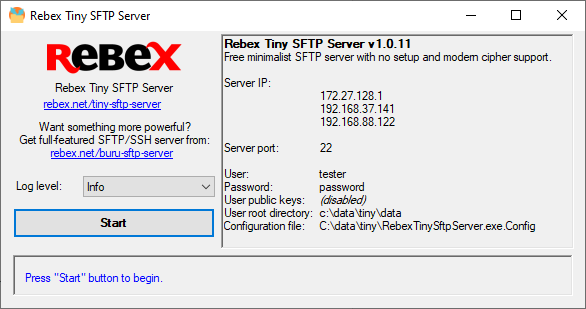 Rebex Tiny SFTP server is a tool for testing purposes. It is a small and minimalist tool, available for free. It can be used for commercial as well as non-commercial for free. It is easy to use and install. It is a single-user tool with reading & writing access. It supports Windows OS that has .NET 4.0.
Rebex Top Features:
This simple SFTP server provides a detailed activity log.
Rebex Tiny SFTP Server can be used while developing and testing a local SFTP client.
It supports an RSA & DSA key.
Rebex Tiny SFTP Server is a perfect solution for developing and testing local SFTP client applications. It can also be used for quick & dirty file sharing. For the extended capabilities, you can try the product Buru SFTP Server.
Pros:

Tutorials available.
Simple to configure (no setup required).
Protects user privacy.
Securely transfer files.

Cons:

Minimalist, with few advanced features.
Requires .NET 4.0
Windows only.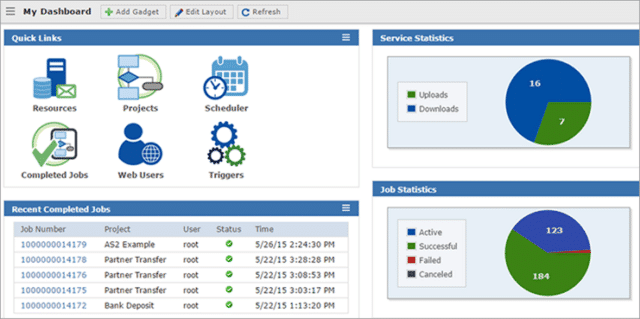 GoAnywhere offers a managed file transfer solution for the protected and streamlined file transfers. The solution is for protecting sensitive data and offers easy & secure file sharing. It is the solution that will help you with securing the file transfers, whether it is from server to server or person to person.
It offers enhanced EDI that has capabilities of translating and moving X12, XML, and EDIFACT files. It has functionalities for automating the batch file transfer.
GoAnywhere has an intuitive interface and supports multiple deployment options such as on-premises, in the cloud, in hybrid environments, or on the MFTaaS hosted plan.
GoAnywhere MFT

Top Features:
This MFT solution has features of automation, centralization & mobility, collaboration, encryption & compression, connectivity, translation, auditing & reporting, etc.
GoAnywhere MFT makes use of modern encryption technology and authentication methods for protecting the file transfer.
It offers collaboration features such as Ad-hoc file transfers, end-to-end encryption, and detailed audit trails, etc.
It has comprehensive workflow features.
GoAnywhere contains secure enterprise FTP features. It can be easily integrated into the external cloud and web applications through its out-of-the-box Cloud Connectors. This MFT solution can be implemented in the cloud for securing file transfers.
Price: A free trial is available. You can get a quote for pricing details.
09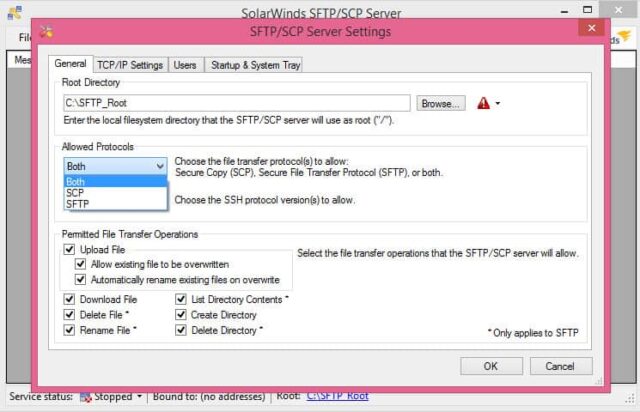 SolarWinds SFTP/SCP Server is a free SFTP server that can complete SFTP and SCP file transfers up to 4GB. With SolarWinds SFTP/SCP Server you can conduct multiple transfers across lots of devices simultaneously. You can also select which version of SSH you want to use (whether SSH1 or SSH2). The platform is ideal for users looking to complete tasks like pushing out OS and firmware updates.
Features:
SFTP and SCP transfers supported
Supports SSH1 and SSH2
User authentication
Concurrent file transfers
Supports transfers up to 4GB
To control access to your files, you can create user accounts. Configuring user authentication details lets you determine who can access your files. You can add new users by entering a Username and Password in the Users section. The process is simple, so it's easy for new users to start managing employee access to the server.
If you want additional security, then you can limit the operations that are permitted on the server. You can select a list of operations that the server will allow including Upload File, Download File, Delete File, Rename File, List Directory Contents, Create Directory, Delete Directory, and more. You can also choose what protocols you will allow.
SolarWinds SFTP/SCP Server is our editor's choice for this article because it provides you with everything you need to start managing SFTP and SCP file transfers with a simple user interface. You can download the software for free.
Pros:

Completely free SFTP server
In-depth user authentication options
Can set limits based on events such as deleting, uploading, and downloading – great for larger teams

Cons:

Is designed more for a technical audience, with an abundance of features and customization options
10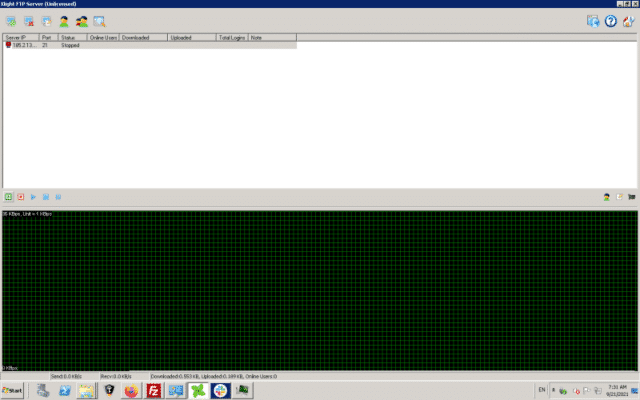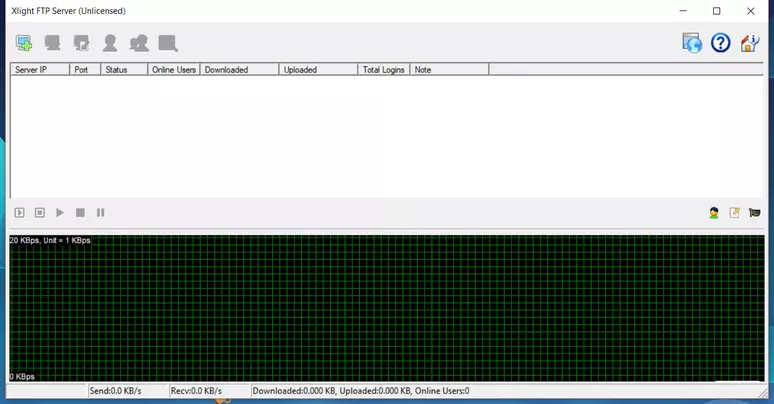 Xlight is a free FTP server that's more modern-looking than FileZilla Server and also includes tons of settings that you can modify to your liking.
After you create a virtual server, double-click it to open its settings, where you can modify the server port and IP address, enable security features, control bandwidth usage for the server, define how many users can be on your server, and set an explicit maximum login count from the same IP address.
An interesting feature in Xlight is that you can set the maximum idle time for users to get kicked out if they aren't communicating with the server.
The Xlight FTP Server can use SSL and can require clients to use a certificate. It also supports ODBC, Active Directory, and LDAP authentication.
Xlight is free for personal use only and works with Windows, both 32-bit and 64-bit versions.
You can download this FTP server as a portable program so that it doesn't need to be installed, or you can install it on your computer like a regular application
Xlight FTP Server Feature :
Active Directory integration
LDAP integration
Database integration through ODBC
Explicit and Implicit SSL (FTPS)
Support SFTP(SSH2) File Transfer Protocol
Support SSH public key authentication
Email Notification
UNC Path(shared network folder) Impersonation
IPv6 Support
FTP sessions and errors log
Store file transfer logs in the database
Support UNIX FTP xferlog format
Send log to Syslog server
System Service
Support multiple virtual servers
Native FTP/SFTP User Isolation
Hierarchy Virtual Paths
GUI Remote Administration
Pros:

Lightweight.
Supports secure file transfers.
Remote administration feature.
Supports multiple connections at once.

Cons:

More difficult to use for FTP novices.
Can be complicated to configure.
Not completely Free
Download Xlite FTP Server For windows
11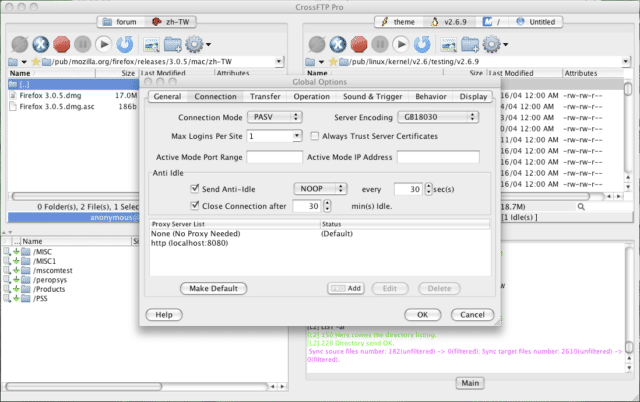 CrossFTP is a cross-platform FTP server that works with Windows servers and Unix/ Linux systems. It's easy to install, manage, and update using Java as the main requirement. CrossFTP has a simple GUI (Graphical User Interface), it provides an easily configurable setting manager for users, basic configuration, connections, IPs control, File/ Directory, & FTP messages. The CrossFTP graphical app also has overview tabs for logging, and statistics for server usage.
Highlights
Multi-platform, Pure Java application
Highly configurable
Command-line and GUI for all sort of users
Open source (Apache License v2.0)
Provides tutorials for advanced users and beginners
Rich manual and knowledge base for Frequently asked questions (FAQs)
Features
Easy to install, manage, maintain, & update
UTF-8 directory encoding
User virtual directory
Write/ Read permission for users
Idle-time support
Upload/ download limits option support
Anonymous login support
IPs management: filtering, banning, block.
Store data in database or LDAP
Customizable FTP messages
Implicit/explicit SSL/TLS support
Bonjour discovery protocol support
MDTM support: query files by data-time stamp
"MODE Z" support for faster upload/ download
Handles ASCII, & binary data transfers
Conclusion
We would recommend choosing the best option that fits with your requirements and complies with your server/ operating system of choice. We have listed several Java-based FTP servers, some of them are aiming for developers, others are general purposes FTP servers. You may need to consider auditing and logging if you want to run a privacy-aware FTP server.
DADE2:

We are a business class cloud service provider in Europe. Our services are provided in the world's leading data centers in Europe and America. With very reasonable cost and excellent quality. Contactus